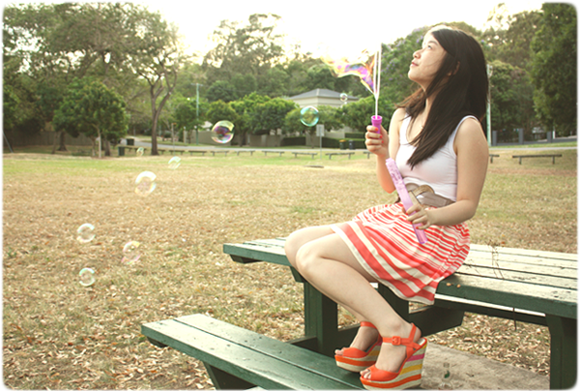 Hello, it's so lovely to meet you!
Julia Low is a twenty-two-year-old girl who falls head-over-flip-flops for all things rainbow bright (and food related), which includes, but is not limited to, God, life, joy, bubbles, friendship, peonies, daisies, clothes, and Care Bears. She is currently pursuing a Bachelor of Arts degree in Journalism and Writing at The University of Queensland in Australia and will be graduating in July 2012.
She was the sub-editor of American Flyer, the American Degree Program newsletter at HELP University College (Malaysia), where she began her tertiary education before transferring to Australia. She has since completed an internship with
Seventeen
magazine and work experience with
Girlfriend
magazine. She is a regular contributor at
Girl With a Satchel
.
She fell in love with the written word when she was just a wee girly and her love for reading and writing has only continued to grow since then. She spent her childhood and teen years writing fiction, creating magazines out of A4 paper and coloured pens, reading Archie Comics, head-banging to Muse, watching Friends and One Tree Hill, cheerleading, and serving God through youth ministries.
She has a laugh like a hyena (though her sister insists it's a cackle) and enjoys squirrelling around the city, the suburbs, and her kitchen in search of yummy food with friends.