Just put up the pretty fairy lights I got a couple of days ago. It shines beautifully both night and day and lights up my room even if the proper lights are switched off. It looks much prettier in real life than in this photo, though. :) I can't decide whether or not to keep them up; I think I will wrap white, chiffon ribbon around the green wires so they still look lovely even when the fairy lights aren't on. Plus, I want to tweak the lights a bit, which will require a lot of time - perhaps I'll do that when I have some to spare.
A whole bunch of us were supposed to go to the beach today, but decided against it last minute 'cos of the possible jam back home (festive holidays end this weekend). So we're probably going to have another boardgame night tonight. Cluedo and Mystery Game at Hogwarts! Woot! 8)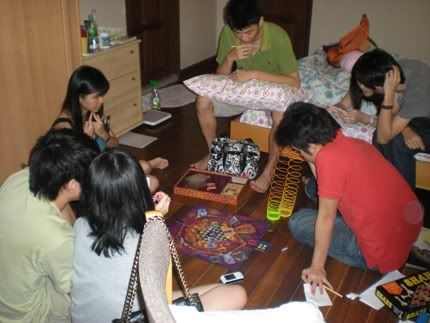 The last time, we played 'til 3am. We're pretty addicted. Hee!