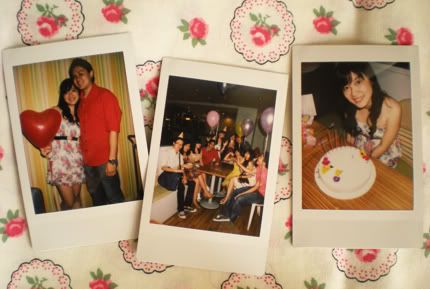 Hi sweets, happy Monday!
I've been spending the past few days celebrating my birthday with loved ones. Today is the day I turn the big two-oh, eeep! On Friday, the laydees took me out for dinner which included a very sweet surprise. It was such a simple yet wonderful night.
And last night, Sunday, a whole bunch of my friends (church + college mates) and I had a little dinner party at
Marmalade
to celebrate. The theme was happy colours (lovelovelove) and all things kiddy, so everyone turned up in bright apparel and had Barbie party hats as a little joke. Wahahaha. After all, 'Julia' means 'youthful'. Tee hee.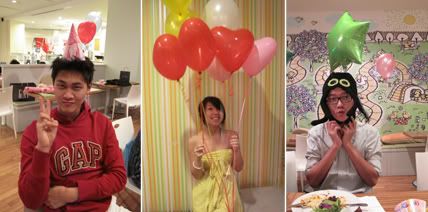 Q: What makes a good kids' party?
A: 1. Barbie party hats 2. Happy helium balloons
3. Octo-head gear!
The whole section was closed, just for us, so it was really comfy, spacious and fun to have it all to ourselves. My heels had given me a blister, so I kicked them off and spent the rest of the evening barefooted and later on, in flip flops. For shame.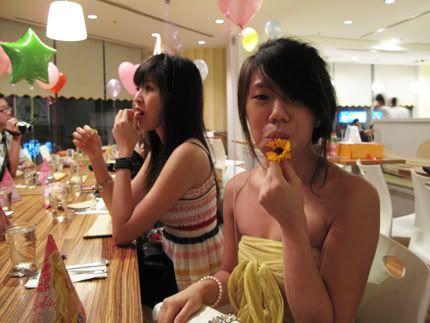 Debbie and Laur eating edible flowers. They taste like veggie.
presents in all its full, colourful glory. thank you so much for them!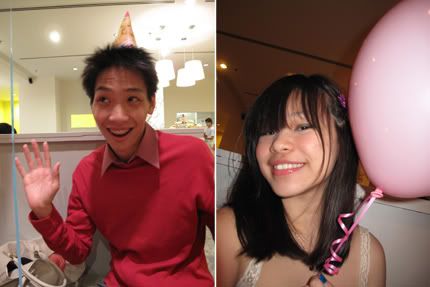 Aaron embracing his inner... er,
something

and Christine look soooper pretty!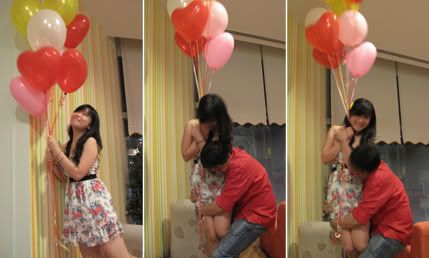 I was so high on helium, Alvin had to hold me
in case I floated away. Haha!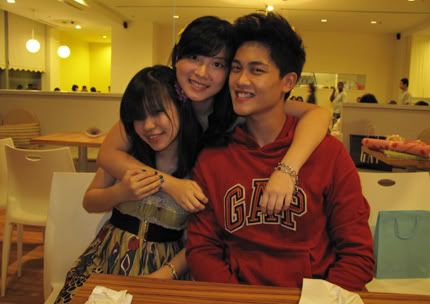 Klisteen, Juria and Lincoln. I heart!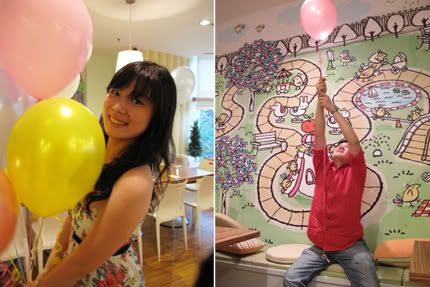 I may be 20, but he's 21 soon. What's his excuse? :P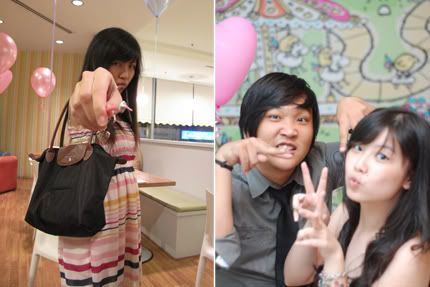 Left: Bwahaha I heart his shot of Debbie playing with my
Disney Princess Wand birthday candle ala Harry Potter.
Right: Me and Brian being very me and Brian.
Victorian Sandwich cake with fondant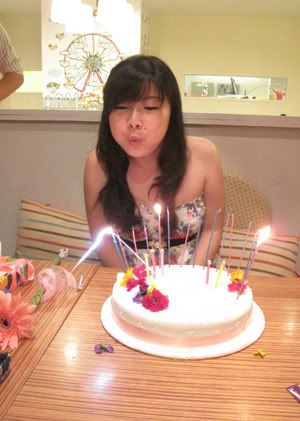 I huffed and puffed but it still
took 10 years before the candles went out! Haha.
Blowing out 20 candles is no easy feat! Especially when so many of them were sparkler candles (pretty!). It took me quite a while to blow them all out, gahh!
At the end of the night, we all came back to my place to play
Cranium
! It's an

uber

fun board game, and of course, the Green Team (Aaron, Cheryl and Yours Truly with the help of Chrys) won! Nyeh heh heh. It was seriously fun, though! Hahaha. We laughed like mad, especially during the Puppet challenges. At the end of it all, I went to bed at 4am feeling extremely happy and blessed. Thank you all so much for loving me and for all the wonderful wishes you sent my way through SMSes, phone calls, Facebook and in person. You guys are truly the bestest friends a girl could ask for. I praise God for each and every one of

you

. Happy birthday to me!