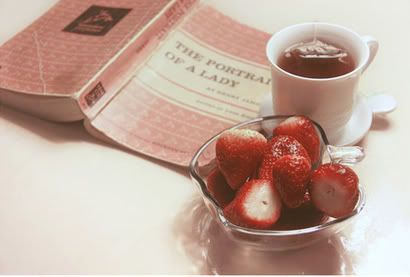 Happy Thursday, every buddy! This is what I've been or will be up to in the month of May. How has your month been so far?
♥

Sleeping...
over at Rozie's place tonight (where I'm writing this post) after our yummy dinner at Murni's with Nik. Girls' Night In! Wooot.
♥

Twirling...
my hair around my fingers. I just got it curled again and I love it!
♥

Feeling...
sweetly appreciated.
♥

Compiling...
my instant photos into a little journal and writing in a new pink diary.
♥

Making...
calls and sending texts from my brand new phone! I'm so happy with my Nokia E72. It's my new baby! Haha.
♥

Thanking...
God for yet another beautiful month, and for continuing to be my Guide and Best Friend.
This month is already packed with plans, especially since Sissy and her fiance (a.k.a. my future brother-in-law) are coming back home for a holiday. We'll prolly spend a lot of time going through their wedding plans, etc. It's so exciting! First my brother, and now my sister is getting married. Yayy!
Also, the Mixtape Swap is now closed! We have a total of 36 people who signed up, which means we have 38 participants, including Bree and myself, the swap hosts. Thank you so, so much for your interest in this swap and for your lovely e-mails and comments of encouragement! We are in the midst of randomly drawing your mixtape swap partners, and all participants will be receiving an e-mail from either me and Bree sometime this weekend, so keep a look out for that. Thanks again, darlings!
All right, it's time for our Girls' Night In to commence. Gotta run! Have a wonderful weekend, darlings! Remember, cupcakes are your friends. Until they're gobbled up, anyway. Om nom nom.