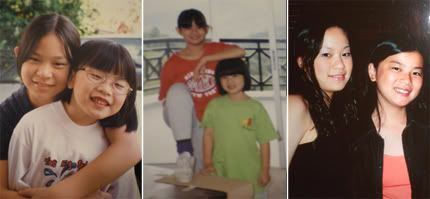 Sissy & I aged 13 and 6; 12 and 5; 19 and 12;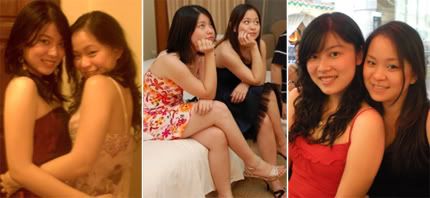 24 and 17; 18 and 25; 20 and 27
I've mentioned my sister a few times on my blog before, but anyone who truly knows me knows just how incredibly close I am to my darling sister, Candice (I call her 'che che', which is Cantonese for 'big sister'). Being seven years older than me (technically, six. I'm a January baby and she, December), she has always, always looked out for me since I was little - whilst bullying me in the process, of course. ;)

I cried so much when she left for Ireland to pursue Medicine. We share a room together, and she's the live wire of the family, so it felt really empty and quiet without her around to cause some racket. But she was always there for me, even though we were so far away from each other. I still felt as close to her as ever. Fast forward seven years since that day, and now she is a full-fledged doctor in Ireland, cutting people up for a living and engaged to the love of her life. She came back for a 10 day holiday starting this week just to see me before I fly off to Australia in eight weeks' time.

I'm feeling all sorts of things. Giddy from laughing (read: cackling) like mad with my sis, full from all the yummy food we've been scoffing down, and also a tinge of sadness. Whenever she comes back home, we have a blast, but then I really dread when we have to say goodbye again. I guess this time it has hit me harder because the next time I see her will be on the week of her wedding, next year. My dad will of course be giving her away, but I feel like I'm the one who has to let her go. Don't get me wrong, I really looove my soon-to-be brother-in-law Richard (he's her Irish fiance hehe) and I know she's in excellent hands, but it's just the sentimental sister thing, I suppose.

We both agree it's like the end of an era, because once I leave for Australia, I'll prolly go through the same process my sister did. Only coming home for holidays, and eventually work in another country (God-willing), get married to someone amazing God has chosen for me. We'll hardly ever get the opportunity to share the same room again, where we used to stay up till the wee hours of morning just talking and laughing and squealing (till my dad had to knock on our door to tell us to go to sleep! haha). My sis used to tickle me until I fell off the bed and that annoyed me to death back when I was a kid. But it is these little things that I'll miss the most.

I suppose this is all part of growing up. Imagine how my parents must feel, they will have an empty nest soon, when I leave. But I guess that's why they say blood is thicker than water. Things change, people change, but family bonds only grow stronger. Some consider close friends as family, and that's just as good. Because family are the ones who truly love you. I'm really blessed to have such a dysfunctional (wait till you hear us argue haha) yet beautiful one.