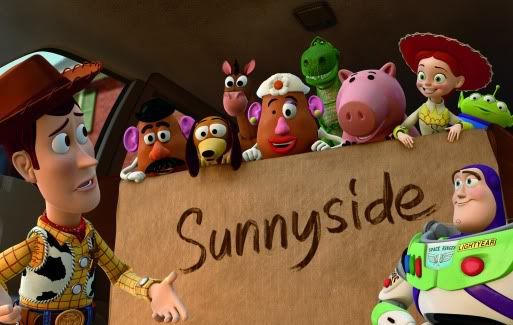 Hola, amigos!
Just a little under three weeks to go before I leave to the land down under, yayy! This week was spent renewing my passport, getting my student visa and medical check up done, and finalising accommodation plans. I feel relieved to have gotten everything settled! It took me ages to find a good place to stay in Australia, but after much searching and with help from really lovely people I got to know through mutual friends, I finally found an apartment that has everything I hoped for (reasonably priced, with a personal bathroom haha!). God is good. I can really see His hand upon my every move so far, and I'm excited to see what else He has up His sleeve for the next two years of my university life in Oz.
And now, on to
Toy Story 3
. Pleaassee tell me you've watched this fantastic film already? If you haven't, stop reading this and goooo! Then come back so we can discuss the movie's awesomeness. Hee. If you've been a fan of Toy Story since the first movie was released, this 3rd installment won't let you down. I watched it with two of my besties, Rozie and Krys (Nik couldn't make it, boo), after we got my passport done in the morning, and they made it all the more enjoyable. Watching movies with them is always ten times more fun because our reactions are always the same. We feel exactly how each other feels, laugh (out LOUD) at the same random lines that only we find highlarious, have the same thoughts, and... oh, I don't know, we're really just birds of a feather. But okay I'm going off topic. Back to the film.
What can I say about it, except that Disney/Pixar really outdid themselves once again? Toy Story 3 was clever, funny, and moving all at the same time. We laughed so much at their jokes (some subtle, some not-so) and were totally amazed at the writers' creativity and imagination. As weird as it sounds, when we saw Woody and gang on screen, it really felt like they were old friends. And while I know that Andy is only a animated character, when we saw him all 'grown up', we felt warm and fuzzy inside, like we all grew up with him. And, to a certain extent, I think we all did. I can't believe it has been 15 years since the first Toy Story premiered.

The ending really got to me because of how much sense it made, and how it applied to real life as well. Ideally, I wish Andy could play with his toys forever, but that isn't how life is, is it? Things change, and at some point we all have to grow up and move on, despite how difficult it is. I cried like a baby towards the end, when Andy introduced the toys to Bonnie one by one, and played with them one last time. So sad! I'm a very sentimental person and I really dislike goodbyes (knowing that this, too, was the final installment of the Toy Story trilogy). And Woody's loyalty throughout... it really tugged on my heartstrings. But, I felt that it was a
fitting end
to the great Toy Story franchise. It gave us fans the closure we needed, albeit bittersweet.

Oh, and, one of my favourite lines from the film? "I'm not a girl's toy! I'm not! Why do you keep saying that? *sadface*" Awwww, Ken.

Anyhoo, I best be off. Good night, lovelies! Hope you are well.

xx

p/s: random, but I've always had thing for Liam Neeson. Heehee! I don't care if he's old. Hey, if people can go gaga over Harrison Ford or Brad Pitt (he's almost 50, thanks very much), I can certainly have me some Liam. kthnxbai.