old letters, diaries, planners, etc.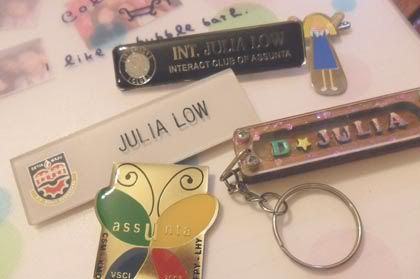 name tags and badges from primary school as well as high school
(the keychain was a gift from Debbie when we were in National Service)
Hi, lovelies, how are you?
Sp
a
in
won the
FIFA World Cup 2010
, woooohoooo! It has made my month, really. I was this close to having a heart attack during the match! Haha. The Dutch were playing pretty dirty, which was terribly irksome, but I tell you, Iker Casillas is a class act! Gotta love him. They truly deserved this win--I'm more than happy!
That aside, I have so much to update you on but I'm keeping this really simple because I have less then 36 hours before I fly off to Australia, and I'm still not done packing. Well, okay, I'm more or less done, but I'm still double checking everything! I spent the last week cleaning up my room and putting everything away, and I had quite a lovely time reminiscing as I went through my stuff. I wanted to read all my diaries before leaving; it took me a coupla days to finish (there was a lot to read), and now that I'm done, I've moved all of 'em from their original spot (my bedside table) and have kept it away. The only one I'm bringing along with me is my new pink diary, which is waiting to be filled with new memories and exciting adventures. For those of you who don't already know, I'll be attending the
University of Queensland
to complete the last two years of my degree in Writing.
My friends have been absolutely
lovely
throughout. I feel incredibly blessed to have each and every one of them. So many have taken the time to give me a ring or text, visit me, pray for me, as well as take me out for yummy farewell breakfasts, brunches, lunches, and dinners. I'm so blessed by their thoughtfulness. So, so very sweet of them. The laydees even came over to help me pack. It was when we started stuffing clothes into my luggage bag and clearing my room that my heart began to feel heavy. Something I feel every time I watch my sister pack before she leaves for Ireland again and again. This time, I'm in her shoes, but the feeling of missing loved ones is still the same. Even so, I'm really looking forward to this new chapter in my life.
A lot of people have asked me if I'm ready to leave, and honestly, I could not be more ready. Although I must admit, every time I think about it, my heart thumps a little faster and my tummy, a little flip flop.
Nervous, yet excited
,
I've been telling them. But now that the day has come, and I'm well and truly leaving, I think the nervousness has subsided (or maybe I'm just trying to tell myself that, ha!); I'm ready to take the plunge!
Although Australia isn't so far away, and I'll be back pretty often for holidays, I'm sure the time spent in Brisbane will be both challenging and fun, as it always is when it comes to venturing into something new. So yes, I guess this will be my last post in KL until I get settled down in Brissy! Will try and update as soon as I can. (:
Take care, darlings! Have a sunshiney rest of the week!
God bless and keep youu.
♥