I need a fireplace, stat.
Haha helloooo, sweets! Yes, it's winter time in Brissy and I love it! Back in Malaysia it's always sooo hot so it's a nice change to be here. Still, I didn't expect it to be this cold because they always say the temperature in Melbourne and all is much lower, which is true, but it can get pretty

cold here as well. To me, anyway. Hee. Belle (my housemate and high school friend) and I have been freezing our pants off during the night (daytime is sunny but cool); Belle even more so than me. Yes, she's been wearing

gloves

! Hahaha. Last night, we got home from
Ablaze
service and supper at like 11pm and we were shivering. Our newfound Aussie friends were laughing at us because they found it funny. No, they said they didn't feel cold because they're used to the weather (and we will too! just you wait! hee). Belle and I were so grateful when we had to sleep on the same bed (other housemates have yet to move out) because that meant more warmth. Hahaha. My fingers are constantly cold, which makes typing/writing/sending texts that much harder and slower. But I ain't complaining, I love it here!
I visited my campus, and oh my gosh, I was just blown away! The University of Queensland is beautiful. No words can describe how huge and gorgeous it is, and photos will never be able to do it justice either (I didn't take a lot of photos, anyway hee. Not yet!). You simply have to be here and see for yourself. There are like 11 libraries, an animal clinic, cafes, lakes, banks (yes, BANKS), an olympic-sized swimming pool, tennis court, gym, etc. all over the campus. It's so big it has its own postcode. And we have turkeys, wild geese, and all running around the grounds randomly. Sho kyute! I feel so blessed to be able to study here. To be honest I'm a little intimidated by it all, but I'm up for the challenge!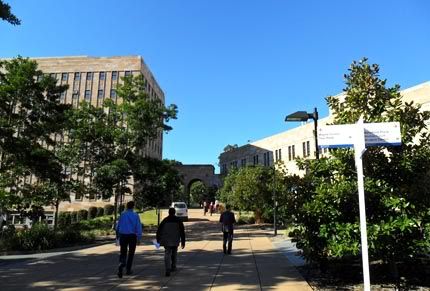 in UQ - on the way to the Great Court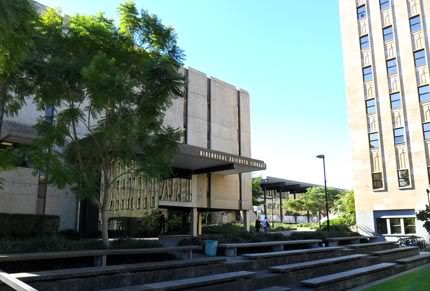 the Biological Sciences library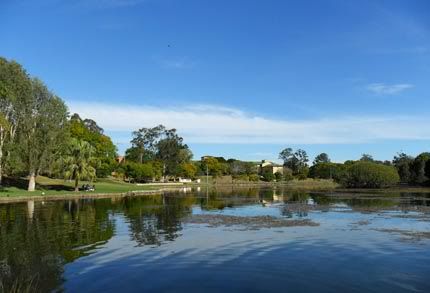 the UQ lakes (we have fountains at some places as well)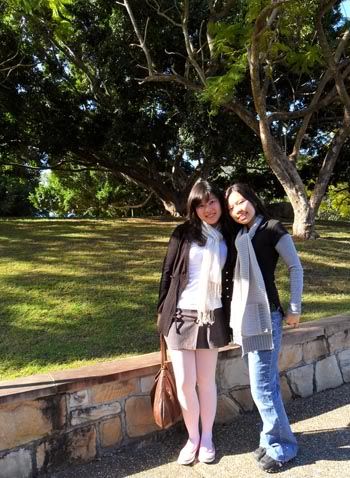 walking around campus


The city is really near to where we live, so it's great. We spent the last few days exploring the city as well as South Bank, woot! The variety of stuff here is really awesome. The only thing is that we're still not used to everything closing at 5.30pm! And how it gets really, really dark by 6pm. Since Belle and I sleep till like 11am every morning, it leaves us with very little time to shop. Malaysian night life still trumps all! Haha.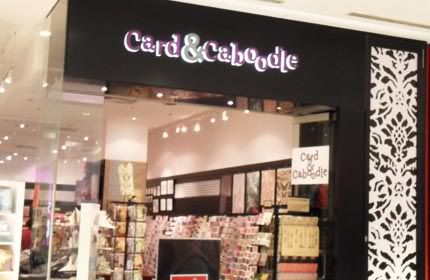 We visited Kikki K. today and I was giddy with excitement. But that was nothing, because when we stepped into

Card & Caboodle

, we felt like we died and went to pretty-stationery heaven. We also spotted a coupla knitted stuff around the city, which is part of the I Knit Brisbane project that Gracie mentioned. Such an adorable project!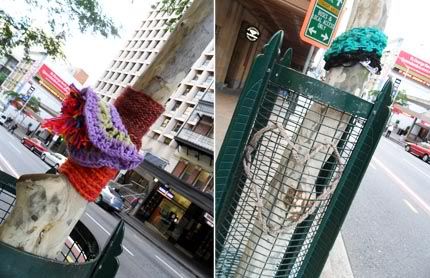 I Knit Brisbane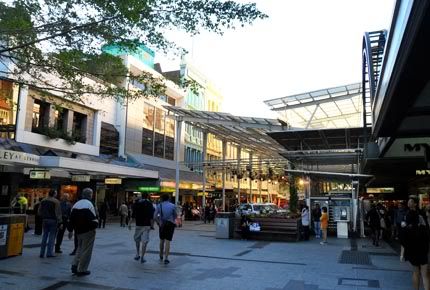 Queen Street, where we spent most of our time in the city
(I've been spending so much money on Mrs. Fields, it's mad. I don't shop, I

eat

.)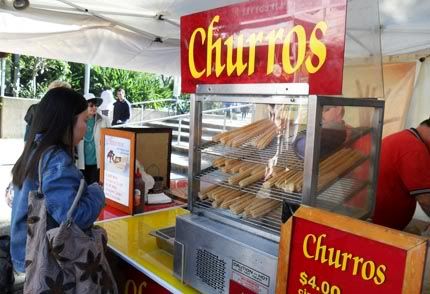 we tried Churros at South Bank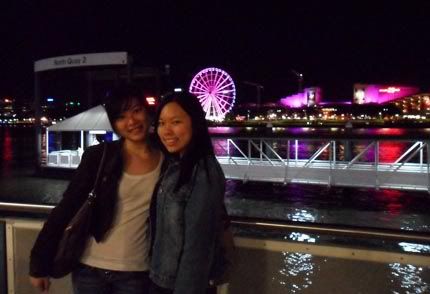 taken tonight, when we were waiting for the

City Cat
(yup, we can travel by ferry as well! yayy Brisbane river) to arrive.
So there you have it! My first four nights in Brisbane; it's been really fantastic! After reading my previous post again, I just can't believe I'm finally here! The stars at night are ample and so beautiful. Really thankful to God and my parents for giving me this opportunity. Surprisingly, I haven't been feeling homesick, albeit I really do miss my family and friends. But the lovely scrapbook they made comforts me and the Magic-8-Ball Beka gave me reminds me of the rest. Hee yeah, he bought a Magic-8-Ball for a Magic-8-Ball (they call me that, don't ask why hahaha).

A huge and heartfelt thank you to those who came all the way to the airport to see me off. I appreciate it so, so much. And to those who took the time to text and call as well.

I hope you're well, sweets, and that life has been treating you with all kinds of wonderful.
♥
xx