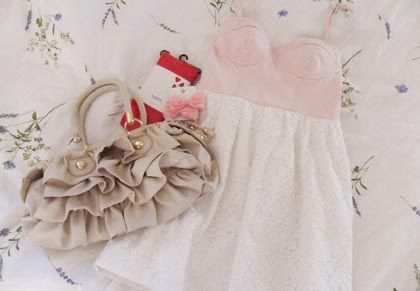 some of the things I bought over the past few weeks
Hello, dearest! As I mentioned in my previous post, I went shopping with Gracie yesterday and it was such girly fun. We have very similar tastes when it comes to all things pretty, so we ended up buying the same things! Hee. I was especially happy because I finally bought the sweet, pink and white bustier dress I'd been eying ever since I stepped foot in Dotti for the first time three weeks ago. 'Twas love at first sight! *happy*
And of course, I was delighted to be able to spend another afternoon with Gracie. It's amazing how we can meet up so easily now, after talking about it for ages back when I was still in Malaysia. We first became friends after discovering each other's blogs, and she is such a beautiful person inside and out! Really. And she has such a sweet voice, too.
But my journey back from our shopping trip at Carindale was a seriously phail moment for me. I was supposed to take the usual bus back to my uni, but because I was heading over to a friend's place, I took another bus that was said to be passing there. Mistake. What was supposed to be a 20-minute journey became a TWO HOUR LONG one. We went through every little nook and cranny of Brisbane before I arrived at my destination, seriously. I didn't know whether to laugh or cry. I mostly laughed. And then whined. And then laughed. I mean, I seriously should've known, because after one hour had passed and I still hadn't reached my destination, I went up to double confirm with the bus driver: "Excuse me, does this bus go to Toowong?" His reply?
Hahaha! I guess that should've said it all. Because yes, I did eventually arrive at Toowong. Two hours later - after the sun had set and my iPod was almost out of battery. Comical! But all in good fun, because my day was good and my night, even better.