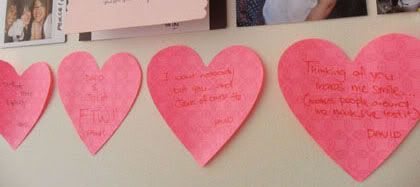 Things I've learned from my time here in Australia thus far:
♥
When you go for a late night jog and suddenly hear + see something with wings sweep over you, it is not a 'majestic' bird. It is a freaking huge bat. Run faster.
♥
Honey Murcotts are the best thing that can happen to you. It's like Chinese New Year all year round! I love you, mandarin oranges.
♥
No matter how tempting that frozen packet of lin yong pau (Chinese Lotus bun) looks at the grocery store, do not buy it, because even after following preparation instructions, it will STILL be as hard as a rock. No joke. I could've thrown it at a window and the glass would've cracked a little. The only upside to buying this is that it will give you and your housemate the best laugh and feel thankful tha
t you guys did not buy two packets.
♥
The pastors of the church you attend are wonderfully down-to-earth and fun to hang out with. Ditto for the church's members. So blessed to have been planted in City Life Church.
♥
Aussies are so friendly, they'll put a bounce in your step and a smile on your face whenever you talk to one (boutique assistants, cashiers, etc.). There are one or two exceptions, of course, but it's rare.
♥
Do not hold a heavy ceramic bowl when your hands are wet. It will slip from your hands and crash-land on your big toe, causing you inexplicable pain and a blood clot under your nail for the next five months. The impact will be so hard that even the ceramic bowl will crack. Again, the upside to this is that you will laugh after crying and your then to-be boyfriend will give you lotsa lovin'.
♥
Everytime you look at the Brisbane river and ride on the City Cat (ferry) as often as you take the bus, you will feel so blessed to be living in this lovely, refreshing city. And the stars at night are beautiful.
♥
The weekend markets are fantastic! Shopping for groceries have never been this cultured and fun. Think laying on the grass and eating yummy food during your grocery run, indie arts and crafts to oogle at, and more.
♥
You will miss your best friends back home, but you guys will get even closer because of that (if that's even possible! we're already tight as), and it's amazing. And if you have besties as lovely as Rozie and Nik, they will also send you random postcards and Body Shop body butters in the fragrance you love from home.
♥
You'll be reminded that even when you are faithless, God remains faithful. He loves you and will hold your hand every step of the way. Happy!
♥
And finally, you will make wonderful, wonderful friends in university and in church. They're the ones who will make your Australian adventure So. Darn. Memorable.