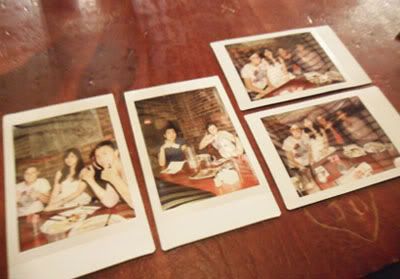 Hi beautifuls!
How are you? Praise God, what a fantastic November it has been for me thus far, but more on that later. Hee. It has been so fun reading and responding to all your lovely questions and comments via my formspring. Because I still have a coupla more to respond to, I've decided to post the formspring Q&As over a couple of posts, so here's the first batch:
what was your favourite book as a child?
Ooh, so many! I grew up loving, collecting, and reading Enid Blyton books (sheepish fact: I always thought 'Enid' was a boy) as well as the Sweet Valley and Two of a Kind series. Oh and Nancy Drew and Archie comics as well! Then the Harry Potter craze began. Reading has always been my joy.
♥
hehehe YEZZAHH, HP7! By the way, my friend from uni thinks HP7 sounds like a virus or disease. Yes, I gave him a look. No, he's not a fan. iloveronweasleyiloveronweasley.
Formspring is where people can ask you questions and you answer them. (: It's pretty cool 'cos you can connect it with Facebook, Twitter, your blog, etc.
at what age did you first started blogging? :)
I was around 12-years-old when I started playing around with HTML codes and Adobe Dreamweaver (my brother, then a graphic design student, was a huge influence), and it was then when I started creating my own websites in which I'd use as a "diary/blog".
From there it extended into Harry Potter fansites (haha, i know right?) and it was just the best 'cos I met so many amazing people during that time. Then I stopped using Dreamweaver altogether (computer complications) and signed up for a Blogdrive account.
I was 14 then, but a year later I decided to try out Blogger and I've never looked back since. Well, I did dabble with Wordpress for a bit, and I do have a Tumblr as well, but Blogger has seen me through a lot of URL changes, fun posts, deleted entries of memories I wanted to erase from my mind, and so much more. It's been a great journey. Ahh, look at me answer this question in my typical long-winded way. Ha!
What is your favourite alcoholic beverage?
Cocktails, please. I'd be more specific but as long as it's sweet, it's good. (:
hey julss,i have nothing to ask, but i may have said this a 100times but yet again i've got to say u're an awesome writer and i love reading ur post again n again *my lil secret* <3 u -reshma-
Awww Resh! Naw, I write okay, it's just that you're really sweet! Hehe. Thank you so much!

♥

It means so, so much to me, really. Thanks for always being so encouraging. Much love!
cheer bear to love bear over!
roger that. love-a-lot bear misses her cheer bear, do you copy? over.
♥
That's all for now, darlings, more to come soon. Thanks for all the lovely questions and comments! Please feel free to continue to tell me anything; your favourite food, shops, colour... anything at all. Or if you prefer, ask me something. Just to put it out there, you dearies truly such a wonderful bunch, you know? You make my world go round. (:
xx