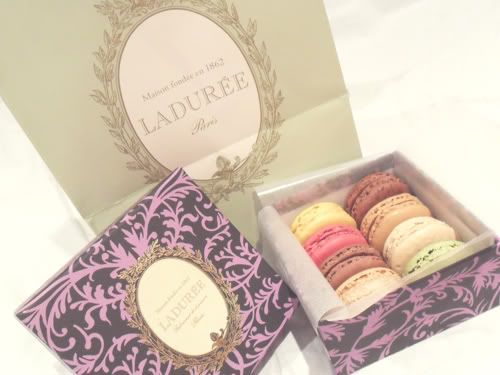 these Ladurée macarons were everything everyone said it would be and more.
Absolutely delightful. (And I got to pick the box!)
How I wish they had a store here.
Hunting...
for fruit tarts. I tried one from the Toowong French Patisserie last week and it wasn't fantastic. So I became sad. The hunt for yummy fruit tarts in Brissy continues! #FruitTartSnob
Daydreaming...
about the time we lay under the stars at Mt Coot-tha four nights ago and saw my very first
shooting star
. It was a lovely moment, and we kept giggling as we tried to scan the sky for more. Arthur saw three, David and Belle saw two, while Brian and I only saw one. Still, I was ecstatic, and I didn't know they were so common until my friends from the countryside told me. They see shooting stars all the time. Beautiful.
Balancing...
my fluctuating emotions. The past few days have been really stressful for me. I've been feeling discouraged and yesterday I felt like my heart was going to beat out of my chest in anxiety. The funny thing is that there are heaps more positive things happening in my life than there are negative. The problem is, even if I succeed in ten things, but fail at just one thing, I get extremely disheartened and start to obsess over that single negative thing in my life. Seriously, I should stop being such a worry-wart!

Going...
for a jog while the boys do their leg workouts, though the weather is getting too cold for me to run outside at night. I think I'll sign up for a gym membership soon.

Loving...
One Tree Hill so much! The eighth season is coming to a close, and I dread the day the series ends for good. A little part of me died when Friends ended (my heart still aches when I watch
The Last One
), but One Tree Hill will definitely leave a gaping hole in my heart. I can't believe it's been eight years. Oh,
how far we've come
. Nathan Scott still gives me the tingles. Hee hee!

xx