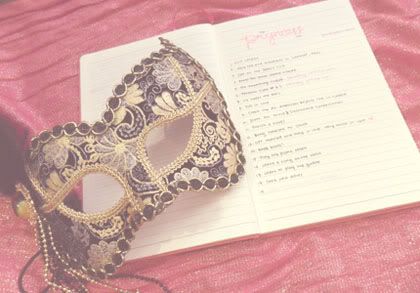 Five hours left until we usher in the new year! Eeep! I'm really excited for it but at the same time trying to grasp the last few fleeting moments of two thousand and ten. This year really proved to be a spectacular one for me and I'm so, so thankful to God for just being with me throughout!
This was the year I:
♥
celebrated
my
twentieth
birthday
♥
sent Ernest of at the airport
♥
couldn't decide which country to further my studies in
♥
conquered heartache
♥
got even closer to my best friends
♥
finished an obstacle course that was eight storeys high
♥
lost a
beloved friend
♥
went on a holiday to China to visit the World Expo
♥
got my hair permanently curled twice in three days because after the first day it went back straight! and now half a year later I've gotten bored and had my locks chopped. I'm always doing something to my hair, sometimes to my own detriment, haha! I love it, though.
♥
hosted
my very first
Mixtape Swap
♥
celebrated Spain's World Cup glory and basically cried when England got booted out earlier
♥
p
layed a hilarious game of Kings with the gang
♥
went to
Australia
to attend the University of Queensland
♥
fretted over my subjects
♥
worked hard
♥
by God's grace got my Journalism media dossier picked as one of the exemplar assignments in the course (insane, this never happens to me! I ain't no smarty pants and I still am not. Perhaps my lecturer was being charitable, hee.)
♥
by God's even gracier grace achieved a Dean's Commendation (I still can't quite believe it, and I don't think I will until I hold the certificate in my hands)
♥
enrolled for dance classes so I wouldn't get rusty
♥
h
ad wicked fun in most classes but nearly died in Samba and the more expert hip hop levels
♥
learned
burlesque
♥
visited all 5 major amusement parks (Dreamworld, SeaWorld, MovieWorld, White Water World, Wet N' Wild)
♥
fell in love with an amazing guy who makes my world go round
♥
played putt-putt golf
♥
made new lovely friends
♥
visited Mellie near Toowoomba (beautiful farm - they used to produce wheat for Kellogg's! So cool.)
♥
did two silly dance videos with mah kooky girls
♥
watched The Social Network three times in the cinema (love. it.)
♥
caught
Kris Allen
and
Muse
live (and I've got my tix for Jimmy Eat World in April next year! the joy!)
♥
held baby Jet for the first time until he fell asleep in my arms. He is the most precious thing evurr
♥
bought my very first copy of
Lula
in March
, and just recently received a year's subscription because the darling Boyfriend loves surprising and inspiring me
♥
cooked new dishes
♥
baked my first apple crumble
♥
and so much more.

2010, you did me good. Thank you. And thank YOU Jesus for Your hand over everything! All these things would be meaningless without You.

And finally, happy and blessed new year, darling readers and friends! Thanks for an amazing year and for making the blogosphere such a lovely place to be at. Here's to 2011, may it be an exciting adventure for all of us!
Love and rainbow kisses,
Julia x